*HEALTH & NUTRITION PROGRAMS*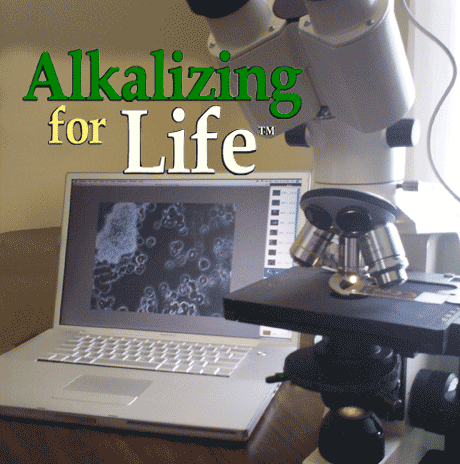 (Rates current as of April 2008):
Call toll free for more info: 1-(888) MY - pH - FIX

1-(888)-697-4349

Nutritional Consulting Sessions
Have your personal live and dry cell consult with Mike Costa, Certified Nutritional Microscopist and associate of the pH Miracle Center in San Diego, CA. This is one of the most powerful and influential ways to assess your current state of health. Scroll down the page to learn more about Nutritional Microscopy.
-Live and Dry Cell Analysis & Consult with full report $225 (90 min. session)

-Live and Dry Cell Follow up Consult $125 (60 min. session)


-Nutritional Consultations by appointment $75/hr
-Phone Consultations by appointment $1.00 per minute
Locations:
Consults are available at Home office located in Mattapoisett, MA, at Uplifting Connections in Bridgewater, MA or personal in - home visits for individuals or large groups by request.
Scheduling For Bridgewater Area Clients please visit www.UpliftingConnections.com
-Health Food Store Shopping Tours
Receive personal shopping instruction as we walk you through your local stores and supermarkets to learn about the do's, don'ts and substitutions for the old acidic favorites in your shopping cart, prepare weekly shopping trips and learn how to shop healthy for less!
Get a Group together! $75 per hour
-Alkalizing Cooking Classes for individuals, couples and families
These classes are customized to your personal taste. Pick a theme or style of dish and we will prepare the menu for the evening, pick up the ingredients and show you how to make it in your own home. Learn how to prepare alkaline meals and learn about pH balance and how it applies to our health. This is a fun program for couples and families!
Rates(as of January 2008)
$140 plus cost of ingredients (for one couple/family)
$50 per additional couple
Live Seminars
Don't know enough about nutrition or alkalizing. Want to share this valuable information with your family, friends, co workers or employees? Whether you are looking to educate your local community about holistic health or increase the productivity and well being of your workforce there is a lecture series that would fit perfectly into your event. Lectures are available covering a variety of topics from basics on the science of pH balance to more advanced or specific subject presentations in health. We can also customise any presentation to fit the needs of your audience. (schedule your own or see calendar for current event dates and locations)
Prices vary for small to large groups and Businesses. Please contact us for pricing and scheduling.

For information and to schedule for any of our available programs please contact:
info@AlkalizingForLife.com or call toll free: 1-888- MY-pH-FIX 1-888-697-4349
If you experience any of the following, you have an ACID/ALKALINE imbalance & should schedule to see a Nutritional Microscopist:
- Overweight, Weight Gain, Obesity
-Unexplained Weight loss or inability to Gain Weight
-Arthritis
-Persistent skin challenges
-Acne, Rosacea
-Psoriasis, Dermatitis, Dandruff, Scalp itch
-Diabetes, Blood Sugar Imbalances
-Have or have had Cancer, HIV or AIDS
-Neurological disorders
-ADD/ADHD/Autism
-Yeast or Fungal outfections
-Bladder Infections
-Acid Reflux, heartburn

-Fatigue, lack of energy
-Body Aches, Sore Muscles
-Nausea, Diarrhea, Constipation
-Stomach discomfort, pain, gas, bloating

-IBS, Crohn's Disease, Colitis
-Persistent itchiness of skin, nose, eyes, rectum
-Restless sleep
-Night sweats
-Allergies
-Anxiety, Stress, Excessive Worry,
-Uneven Temperament, Mood Swings, Fear/Anger
-Forgetfulness, Foggy or Muddled thinking, a family history of Alzheimer's Disease
-Heart Disease, High Blood Pressure, High Cholesterol
-Poor Circulation
-Liver or Kidney problems
-Kidney or Gall Stones
-Are on or have been on Antibiotics for extended periods

-Taking Prescription Medications
-Insomnia
-Bad Breath, Body Odor
What is Nutritional Microscopy?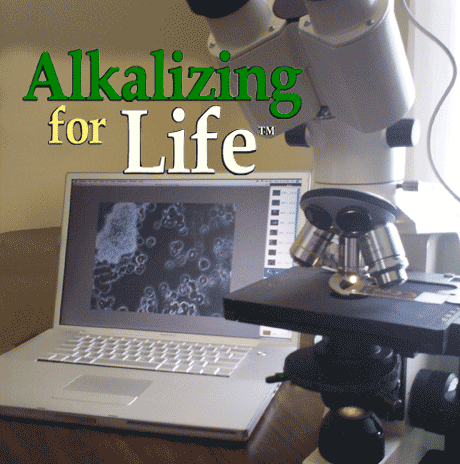 -Mike Costa, Nutritional Microscopist

"The person who says it cannot be done should not interrupt the person doing it."
Chinese Proverb.
Nutritional Microscopy is about getting to the source of the problem through observation of the blood. Many people suffer from health challenges that go completely or partially unresolved for years and there are many of those people who have come to accept and live with their problem. Often, if they are being treated for the problem, that treatment is not truly healing or resolving the imbalance but causing further complications or side effects.
Many clients I've worked with have shared their frustration that "nobody seems to know what's wrong" and today many folks are tired of receiving another prescription recommendation when they bring up persistant problems to their M.D.. Many Doctors now are actually looking outside the box and I work closely now with many M.D's & Chiropractors.

But if you have ever felt lost regarding health then know you are not alone. I spent 15 years going from Dr. to Dr. hoping to find an answer to my health problems, and I was hopeful, but never did. It wasn't till I finally heard about the Acid/Alkaline Theory and met with a microscopist that I was able to not only literally see and understand what was going on inside me, but finally understand how to fix it, and it all made sense. Since then I have been Crohn's free and I decided to make some major career and life changes. I left Hollywood television production (although I am doing a documentary about Alkalizing) and I became a nutritional microscopist, trained by Dr. Robert O. Young, the foremost alkalizing research scientist in the world.
Nutritional Microscopy , or live and dry blood analysis is the study of live and dry blood under a microscope for the purpose of health evaluation. Several droplets of blood are taken from a prick in a finger and methodically placed on a series of slides for viewing under the microscope. From there the blood is observed and via a high resolution digital video camera an image of the blood is shown for client evaluation and educational purposes. The observed conditions are then identified and noted within a report.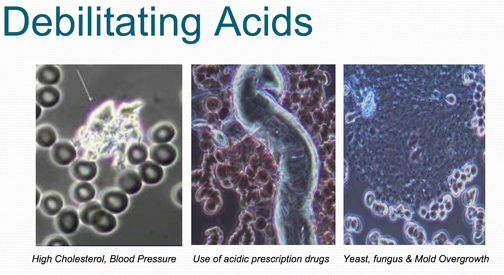 There are two different types of evaluation. The first concerns the "live blood" sample where we look at current activity and condition of the blood. Through this evaluation we can assess the general state of health of an individual over approximately the past 120 days. By evaluating the condition of the cells and interstitial fluid a professional microscopist can discern what challenges are taking place within the body and what lifestyle or dietary elements may improve your overall health. The second level of analysis deals with the study of the patients "dry blood". There we examine not only current but past conditions and based upon this can evaluate probable future challenges.
Among many things a professional microscopist will be able to observe what degenerative challenges exist and suggest the best approach to alkalize the fluids and tissue of the body and facilitate recovery. Although it has not become widely used yet in traditional medical practice within the U.S., this new science is currently being utilized in Europe all over the world and the demand for qualified microscopists is increasing.

Microscopy is currently the most valuable and accurate analysis in evaluating individual health and dis-ease conditions and the methods of alkalizing offer the most beneficial protocol to achieving the goal of perfect health.
Watch This Brief Video Demo of Dr. Young conducting a Live Blood Cell Analysis: